The Company is widely known and its programs are eagerly anticipated by people of all ages. The group's historical and clothing presentations are augmented by demonstrations, games, and other activities. The Company is actively involved in: historic preservation, museum and historical site consultation, teaching at schools and universities, research requests, and the collection and preservation of rare/out-of-print books and newspapers. In addition to Scottish living history, members of the Company teach at historical conferences, present "Robert Burns and Friends", portray French and Indian War and War of 1812 units, make appearances and presentations about early American history, work at Scottish Games and Celtic events, and do a myriad of other activities.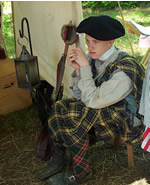 ..."Because it is not for glory or riches or honours"...
Declaration of Arbroath, 1320.